The
port of Sète,

the maritime gateway to

Europe
The Port of Sète, a major
port

in Occitania
The port of Sète-Frontignan is one of the most important players in French maritime transport. It is the second-largest decentralized port in France, owned by the Occitanie/Pyrénées-Méditerranée region, which has created the public establishment Port Sud de France to manage its 3 port concessions.
This regional public establishment employs 95 people in the commercial, fishing and yachting port activities, as well as in the Port Management Department, which groups together cross-functional services such as Quality/Safety/Environment, sales, engineering, human resources, legal, accounting, communications, etc.
Together, they manage human, material and financial resources in compliance with environmental and regulatory requirements.
The Port of Sète is also home to a very active and supportive port community, comprising pilotage, towage and mooring services, port and dock handlers, logistics specialists, fishermen, fishmongers, handling and port agents…
The port of Sète generates over 1,700 direct jobs.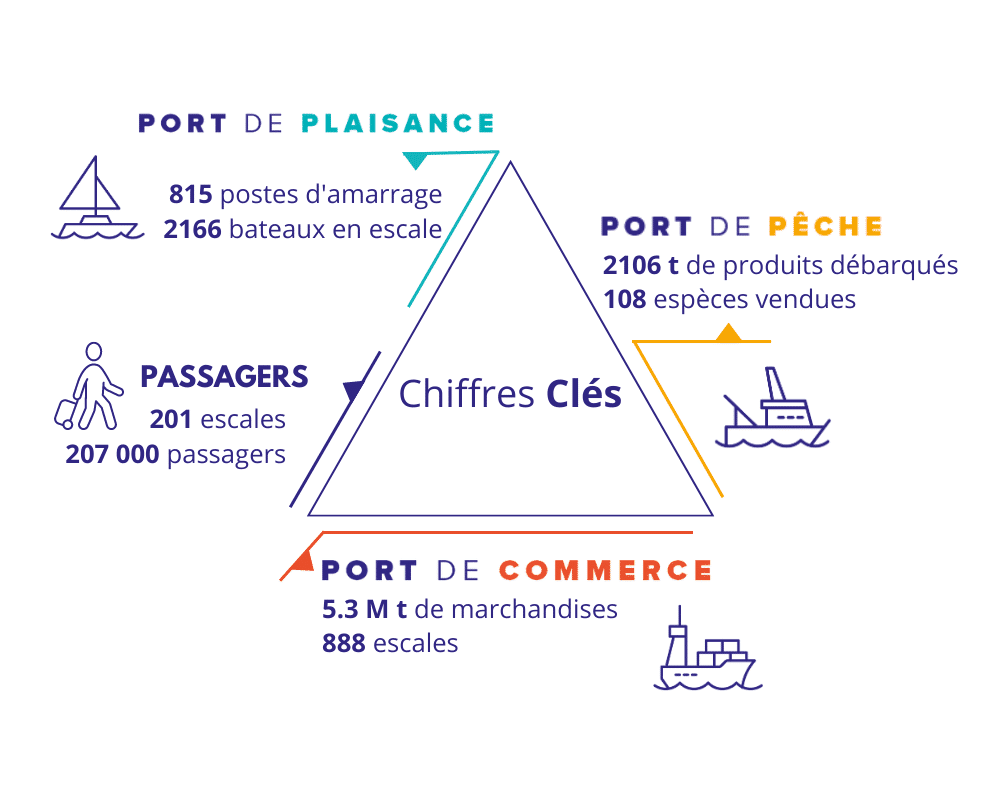 The commercial port of Sète is the second largest on the French Mediterranean coast. It is a deep-water port able to accommodate ships with a permissible draught of 13.5 m. It is the second-largest decentralized port in terms of total tonnage. The port of Sète has a number of strengths that enable it to remain competitive and constantly adapt to changes in its economic environment. In addition to its modern infrastructure, state-of-the-art port equipment, cranes and gantry cranes, its multimodal logistics offer combines sea, rail, river and road access. The port's infrastructure enables it to attract new companies in secondary sectors, and to support its customers in the logistics and transport sectors, among others. The advantage of its geographical position at the gateway to Europe is also a guarantee of competitiveness.
Le
port de commerce

DE SÈTE
Le port de commerce de Sète est le second port de la façade méditerranéenne française, c'est un port en eau profonde pouvant accueillir des navires avec un tirant d'eau admissible de 13.5 m. C'est le second port décentralisé par son tonnage global. Plusieurs atouts permettent au port de commerce de Sète d'être compétitif et de sans cesse s'adapter aux changements de son environnement économique. Outre ses infrastructures modernes, ses équipements portuaires, grues et portiques de dernières générations, son offre logistique multimodale mixe accès maritime, ferroviaire, fluvial et routier. Le port bénéficie d'infrastructures permettant l'implantation de nouvelles entreprises des secteurs secondaires et l'accompagnement de ses clients dans les secteurs de la logistique et du transport entre autres. L'avantage de sa position géographique aux portes de l'Europe est aussi un gage de compétitivité.
Le port de Sète est le port de pêche historique de méditerranée, c'est la première halle à marée d'Europe à s'être informatisée dès 1967. Dès cette période, et afin de rester compétitif dans un secteur en constante évolution, le port n'a pas cessé de se développer et de proposer des solutions pour pérenniser l'activité pêche de Sète.
Depuis sa reprise par la Région Occitanie, le port de pêche de Sète s'est structuré et regroupe maintenant trois grandes activités qui sont la criée pour la vente de poissons et crustacés, le carénage pour la révision des navires de pêche et plaisance et la gestion de la zone halieutique de Frontignan.
Le port de
plaisance

DE SÈTE
Le port de plaisance de Sète dispose d'une offre de navigation variée, baigné à la fois par la méditerranée, l'étang de Thau et traversé par les canaux. Les quais de Sète accueillent depuis des décennies de nombreux plaisanciers de tous les coins du monde.
Le port de plaisance dispose de plus de 800 anneaux pour les voiliers, bateaux à moteurs, multicoques et grande plaisance, accueillant des navires jusqu'à 70 m. À l'intérieur de la ville, les canaux fermés gérés par le port de plaisance de Sète disposent de plus de 1 100 anneaux pour les petits bateaux de moins de 8 mètres. Le port de plaisance est un port innovant, proche de son environnement et de ses plaisanciers, le motivant a sans cesse renouveler son offre de services et a améliorer la qualité de son accueil.
Un bassin est aussi dédié à la très grande plaisance avec électrification des quais, végétalisations des abords et services aux équipages (pool house, club de fitness, salons intérieurs cosy, espaces extérieurs de relaxation …).